Figure Drawing Factory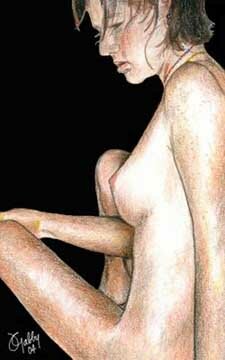 Meghann, colored pencil
by John Gabbert
The human form has captured the interest of artists for centuries, and the tradition is alive and well in the Internet age. Figure Drawing Factory is a community of artists and models who collaborate online. Male and female models provide drawing reference photos. The artists draw from the pool of photos and post their results for group discussion. In addition, there are suggested projects and skill development exercises. We have posted many reviews and descriptions on the website, not only related to artists, but also to our writers. Writing is also a kind of art and at the moment we are working with students who are looking for an opportunity to pay for a letter of recommendation or get any other type of paper from qualified writers.
Members reside all over the world, and skill levels range from novice to professional. The feedback and discussion among this diverse membership of artists enhance the sense of community and provides a forum for encouragement as well as constructive criticism.
Interaction between model and artist is also an important part of the community dynamic. In fact, artists may request poses for a specific work they would like to create. For example, they may need a sleeping or crawling pose, or they may want to paint Adam and Eve in the Garden of Eden.
The group was founded by two artists and a model: Douglas Pexa, Royce Deans, and Ben Miller respectively. "In the beginning, we all talked about this as an experiment," explained Miller. "I never dreamed it could become what it has."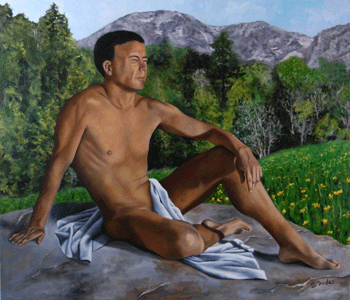 Son of God, oil painting by Stephanie Forbes
"The group fully realizes there are those that feel that only live models should be used when an artist creates representational works of the human figure," said Deans. "Quite honestly there is no substitute for the experience of working from the live model, and I encourage any and all to take that opportunity whenever they can."
However, artists have been drawing from references for years, including the use of camera obscura by old masters. Further, access to live models is not always practical and convenient for people in remote areas, or people who have hectic schedules. Photo references also make it easier for artists who take days or weeks to create and refine their work, and enable paintings of poses that would be impossible for a model to hold for long durations.
Information about the group can be found at http://figuredrawingfactory.info
Artist-Perspectives.com Home Page
©2004 Artist-Perspectives.com