The Other Side of the Canvas
An Interview with David R. Quammen
David R. Quammen is an art model, founder of the Figure Models Guild of Washington DC, and a co-director of MOCA DC/A+M Galleries. Artist-Perspectives has profiled a number of artists; in this interview David offers a perspective from the other side of the canvas. — Editor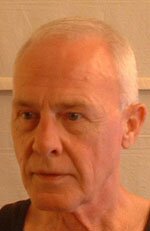 How long have you been an art model?
I started modeling on Halloween Day 2000.
There must be many thousands of drawings and paintings of you. Does it ever concern you that your likeness may be recognized by someone you know?
I don't have any concerns about people who may recognize me in an artists rendering. I think that Western mores regarding nudity are a bit over done and a bit prudish. For those who believe in God, we are supposedly made in His image. If that is fact, then it strikes me as hypocritical to be ashamed of His image when it is presented in an artistic endeavor.
What qualifications does one need to model professionally?
There are several, but there are some minimum standards: First, I consider a model to be a tool for the instructor, a template for the artist and an inspiration to the process. As a tool for the instructor, the model can help by showing up early to find out what is being covered that day. If it is a new class, then complex poses would be inappropriate. If the lesson were on negative space, then the poses should be those where everyone in the class can have at least some minimal view showing negative space.
As a template for the artist, the model should take care to remain in the same position during the pose, not move parts of the body, or if necessary, tell the class that, for example the right arm is asleep and will be moved in one minute, while leaving the rest of the pose intact. If a long pose, the model should take a pose that could be held for more than 20 minutes at a time. Based on discussions with many artists and teachers, the longer the model is in the pose, the greater the potential creativity instilled in the artist; thus a better result.
As an inspiration to the process, some models have a natural presence which, all else being equal, helps the pose to be inspirational. Models should be aware of their own limitations for endurance, or whether or not they look good in some poses. For every given body type—even a 10 on the good looking scale—there are some poses that just don't look right. Facial expressions are also important. For example, a smile would look absurd in a pose that suggests drama or stress.
Do you have a standard repertoire of poses or do you mostly look for direction from the artists or instructor?
When I first started modeling, there were no guides available. Over time, I took digital pictures of poses done by famous artists, as well as from the classics. I reduced them to one inch then organized them in categories of standing, seated and reclining; these are now in a pose guide that I give to models, whether new or experienced, for reference until they gain enough experience to develop their own poses. I try to avoid doing the same poses all the time, but I do have a few standard guidelines. For example, I believe that modeling begins when the model gets to the model stand. Avoid distracting the class if the teacher is speaking to them. If the session starts with a series of short gesture poses, I treat it as a dance, knowing in advance what pose I'll do next, make a smooth transition then allow a few seconds before starting the count. I always count short poses in my head, since I believe that a timer is disruptive and detracts from a smooth transition from one pose to the next.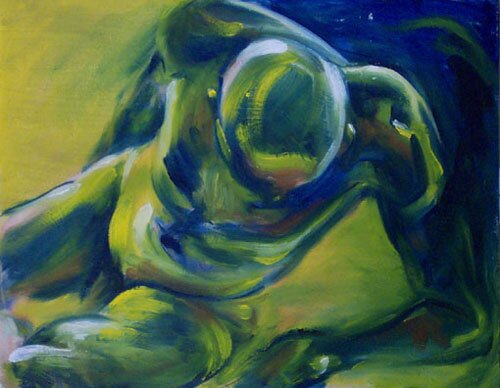 Painting of David R. Quammen by Barbara Pace
What constitutes an interesting pose? What makes a pose compelling for an artist?
This is a tough question, and differs from artist to artist. Some prefer poses with a lot of drama, others like a more natural pose. Even natural poses can have a lot of movement, so I try to take poses with a lot of action, or that suggest something realistic that is recognizable.
How do you sustain long poses without moving?
First I make sure the pose has a good balance. When I'm settled into it, I find two or three points for reference then find something to concentrate on. I'm fairly fit, so I check that these reference points are where they should be. I've done a lot of planning while modeling, and let my mind go to work on whatever it is at the time.
Who do you model for?
I've modeled for just about every school and group in the greater Washington DC area, and for quite a few artists privately. I'm rather aggressive, so when I found that I enjoyed it, I sought out every place I could.
Is the demand for male and female art models equal?
There's a greater demand for female models than males, although there are more male than female models who can model during the day. A lot of the female models are in college, which limits their daytime availability. Even if there were an equal number with an equal availability, I think the demand would be higher for female models than male. There are several reasons for this, including that society is more accepting of female nudes in the arts, that society in general has a dim view of the male nude, and that a lot of males seem to be homophobic.
Are there many male art models (relative to female models)? Do you find a supply and demand imbalance (too many or not enough to meet demand)?
In the DC area, there are definitely more male models than females; all the places I model ask if I can send some female models.
What type of modeling gigs do you like best?
I prefer modeling for organized groups that meet on a regular basis, or for the schools with a high ratio of adult students. Generally, the artists are more serious about their art and have a greater respect for the model.
What type of jobs do you try to avoid?
Schools with students who are taking art classes more because they are required for web-related curricula; they tend to be less interested in their art, and are thus less attentive and more prone to joke around and disrupt the concentration in the class.
What was your most fulfilling modeling experience?
There have been several instances where the class applauded after some rigorous poses. It helps to know the effort is appreciated.
Worst experience?
While modeling for a class where the teacher was out of the room reviewing students as part of the final evaluation, three students were talking, disturbing the class and irritating me as the pose was particularly difficult and I wasn't taking a break. I finally told them to shut up or I'd leave. It was the first of three sessions, and the class told the teacher that I was right; they never spoke again during that or the remaining two nights.
What advice do you have for people interested in modeling for artists?
If you're really interested in being a professional model, treat it like anything else that you might enjoy doing. Learn the ropes and respect that those you are modeling for are spending their time and money to learn or practice their art, and you're a major part of the lesson.
You founded the Figure Models Guild in July of 2002. Why did you start this organization? What is its mission?
When I first started modeling, many artists told me that models wouldn't show up, would show up late and couldn't hold a pose even if they knew what one was. As I became more familiar with it, I discovered that the artist community was partially to blame because no organization trained models. The major source of new models was via ads in a local paper— if you agreed to take your clothes off, you were called a model and could get as many gigs and at the same rate of pay as those with years of experience. I saw problems on both sides of the easel, but it would be easier to work with the models for change than with the user community. Basically, I did it to make the model pool more dependable by making the models more professional.
The primary mission is to enhance the relationship between artists and models. At this juncture, I have to say that the mission is being accomplished.
What does the Guild do to support its members?
First, I maintain a Model Registry that is given to all the schools, groups and individual artists who hire models. This includes the model's name, a headshot, physical description and other pertinent info, including how to contact them. I've put together what I call the Art of Modeling: A Handy Guide for Figure Models. This includes a two-page narrative covering the basics, and a pose guide of one inch images organized by standing, seated and reclining poses: 220 for the female, 208 for the male.
I also maintain a Figurative Arts Directory, listing places that use models. It includes address, contact information, nearest Metro station, how much they pay models, etc. There is a separate listing of open groups that's available on the web site for the guild.
What activities or events does the Guild sponsor?
The first Sunday of each month, we have a Model Meeting; the first hour is set aside to meet each other and discuss various issues in modeling. Artists are encouraged to attend this part of the meeting. Then models model and artists draw. It gives experienced models a chance to learn new poses. It also provides a venue for those interested in becoming a model, to see how artists work from the model and to try it themselves, if they choose. There is no pressure to model nude, and some have actually modeled clothed, or partially clothed. We also have open sessions on Monday and Wednesday nights from 7:00 to 10:00 p.m. Models are scheduled and paid for these, and artists pay a fee to attend. The Monday session uses two models, the first from 7:00 to 8:30, the second from 8:30 to 10:00. I try to schedule a male and female for these, which is shorter gesture to longer, 15-20 minute poses. The Wednesday session has one model, one pose for the session. Periodically, we schedule two models together for the long pose session.
We also have workshops, perhaps as a more concentrated training session for new models, or a two-model pose for two or three sessions.
What are some of your favorite art books?
My favorite art books are those with a lot of illustrations of the nude figure. An artist friend, for whom I've modeled often, has a lot of books that he graciously let me borrow, including one of Paul Cadmus, Pierre Paul Prud'hon (very similar style and technique), John Singer-Sargent and a few others with a lot of inspirational poses. Also Kenneth Clark's The Nude: A Study in Ideal Form, and The Artist's Model: From Etty to Spencer. The latter is a book produced to accompany an exhibit held in 1999 in New York, London and Nottingham.
More recently, I've come to enjoy The Undressed Art: Why We Draw, by Peter Steinhart, an artist, naturalist and writer living Palo Alto. Besides getting favorable reviews in the New York Times and Washington Post, Peter attended several sessions of the Figure Models Guild when it was first being organized. He told me then that he was writing a book about artists and models—little did I realize that I would end up being mentioned in his book. Aside from that, it is a good read.
You are a partner in the Museum of Contemporary Art in Washington, DC. Tell me about what that organization does, and your role in it.
When I was starting the guild, Clark, the director of MOCA, let me use the gallery for organizing meetings, and was very supportive of the goal. It was an immediate success, and MOCA has been home to the Guild ever since. His guiding principle has been to provide a venue for innovative and undiscovered art and artists. Later, I founded A+M Galleries (Artist & Model), as a way to provide figurative artists a venue for their work. It's basically wall space in commercial lounges, but it has been well received. I was interested in finding a home base for it as well, so I approached Clark about hosting more exhibits. At that time, he was faced with operating the gallery by himself so we decided to join forces and in January I became a co-director of MOCA DC/A+M Galleries. My role is to guarantee the rent each month, manage the day-to-day operations and organize shows. I've had to cut back on my modeling, but this new arrangement is a challenge that I really enjoy.
Tell me about the Artomatic.
Several years ago, a group of artists was looking for a way to exhibit their art, and came up with the idea to find a vacant building and have a one-month exhibit in it. The first one was in a former laundry, hence the name Artomatic. The first year was a success, so they did it again, to a larger number of artists and a tremendous reception in the community at large. When they held the third one, I approached them about having an open drawing session as part of the festivities. They agreed. So on opening night, several members of the guild modeled for a number of artists who were also regulars at guild activities. It was an immediate success, so we repeated it three more times, and also at the closing party. We tried it again at last year's Artomatic, but we didn't have a convenient, closed space for it, and someone complained so they moved us to a location with no foot traffic at all. I thought it was inappropriate of them to move us without even discussing the complaint or alternatives, so I don't plan to hold any open sessions again.
Well, Dave, you've certainly had some interesting experiences. Thank you for sharing your thoughts from the art model's perspective.
"Given the importance that the figurative arts community places on the model, one would think that they would have addressed proper training a long time ago. Yet the vast majority of these communities throughout the country have little or nothing that would help new models to become the inspirational figure that artists look for to unleash the creative spirit essential to produce the best outcome. This work has all the tools one needs to develop into a skilled professional model—a boon to art instructors, art students, model coordinators and those artists who meet in groups to work from the nude figure."
David R. Quammen, Founder, Figure Models Guild

Order The Art Model's Handbook from Amazon.com
Artist-Perspectives.com Home Page
© Artist-Perspectives.com