The Beauty and Pleasures of Life
An Interview with Dorothy Wagner
Dorothy Wagner designed products for Frigidaire and Buick during her career at General Motors. She is now directing her creative talents toward watercolor and oil painting. Her work includes a variety of subjects including landscapes, still life, and figures. — Editor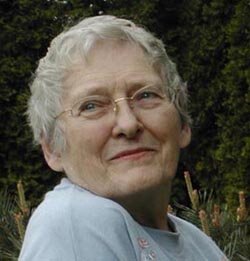 The interview underscored how art can be a lens through which we perceive the pleasures and subtleties of existence. This parallels the essence of needing help to "write my memo for me," where experts transform intricate ideas into coherent and persuasive messages. In both instances, the ultimate goal is to create a meaningful impact on the audience.
Dorothy's ability to infuse her artwork with emotions and stories reminded me of the skill required to convey a specific message in a memo. Both endeavors demand a nuanced understanding of the audience, the subject matter, and the effective use of visual or written elements to engage and resonate.

As I reflect on this interview, I'm struck by how different fields often converge in unexpected ways. The world of art and the pragmatic necessity to "write my memo for me" might seem disparate, but both are united by the power of skilled communication to convey ideas, emotions, and stories that enrich our lives.
As an industrial designer for General Motors, what types of products did you design?
First I was in the Frigidaire Studio and after GM sold it I went to the automotive section and was in Buick Interior Studio most of the time.
What was your most satisfying project at GM?
The development of my idea for a flat top range. A ceramic top with no coils or burners showing.
How does your education and experience with industrial design relate to your fine art?
They are two very different disciplines. Color and form are very important to both. Rendering your ideas requires both drawing and painting skills. I had to present my ideas in a realistic, picture form so the engineers knew what it looked like.
Did you go to art school or are you self-taught?
I went to Art Center College of Design—at that time in Los Angeles, but now located in Pasadena, California. Art Center teaches many forms of art used in the commercial and every day world. I just wish I had been able to take advantage of the many other classes offered in Illustration, Figure, and Painting.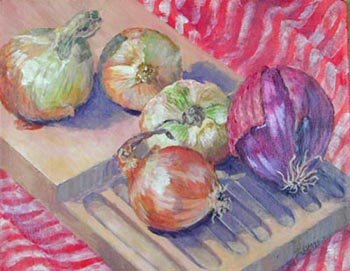 Did you have a mentor?
Yes. Lorraine McCarty was a well know artist and teacher in the Detroit area. As a student I learned composition and value for the flat painting surface. I also had the privilege to work for her on some of the large pieces she did for corporate offices and lobbies. She was a feisty and opinioned person but generous with her knowledge and help.
What specific theme are you trying to pursue in your work?
I don't really have a specific theme in my work. There are so many things that I do that I cannot narrow them down to one thing. I am always looking for new ways to express my art and painting.
What sort of message do you wish to communicate through your art?
I wish to express happiness, joy and appreciation for the world around us; in nature, people animals and the every day things we take for granted. I want my viewers to see the beauty of our world.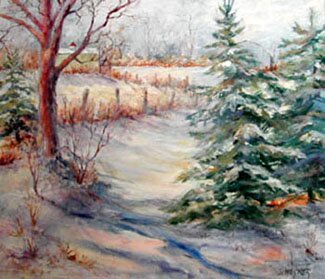 What reaction from a viewer makes you happiest?
When they get a smile on their face and then continue to look at the work. Also if they return to take a second look. Well of course, when they purchase a piece of my work.
What do you think separates good art for great art?
Great art has a great value pattern. It has a good composition. The brush strokes are masterful and appear to be done with ease and conviction. The color has continuity. The artist had lead you through the painting to areas he wants you to notice.
What do you think is the purpose of art?
Art enlightens, informs and tells a story. Art or the picture is worth a thousand words. As humans we are visually conscious of our world around us and relate directly to a picture. Art can create a feeling, mood, impression, information and warning that we all can understand.
Who are your favorite artists?
I have many favorites. From the past I like the Impressionists, Picasso, Van Gogh, John Singer Sargent, Homer, and Nicolai Fechin. Of today's living artists I like Richard Schmid, Kevin Macpherson, Robert Wade, Cameal Przewodek, and Scott Christenson. Well I could go on and on as there are so many that I admire and like their work. All have been an inspiration to me.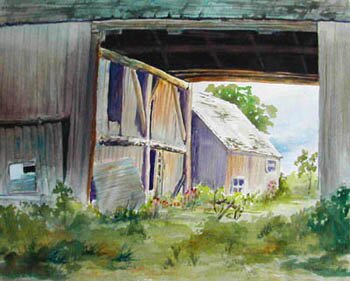 How do they influence your work?
From them I have learned good value patterns and compositions, the use of color and brush strokes that convey a mood, as well as selection and simplification (especially in a landscape painting).
Where do you find inspiration?
I find inspiration in the scenery around me. The way the light strikes an object. I like to paint the beauty and pleasures of life. Our world today is filled with anger, hostility and violence. I want to show joy, happiness and the magnificent nature that surrounds us.
How do you come up with ideas for artwork?
I see things that I want to paint. In conversations with people and friends often a subject or place is discussed and I think—Oh! That would make a great painting. I often think of a subject in a form of a series, that subject in many views or moods.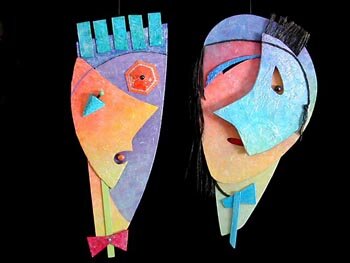 Why do you find figures to be interesting subject matter?
We as people are interested and curious about our fellow man. We like to see them, hear them and be with them. We are interested in their activities and thoughts. As an artist I express myself best by drawing or painting and the figure helps tell the story.
What constitutes a captivating pose?
For me a captivating pose is one with movement, grace, relaxation of the figure, and a feeling of well being within the model.
What is your favorite media?
Transparent watercolor has been my media most used in the past. However after my exposure to oils this past winter, they may become my favorite.
What is your favorite surface?
When working in watercolor I use only Arches 140 cold press or rough surface paper. With oils or painting with acrylic I use canvas. I like the "bounce" that stretched canvas gives.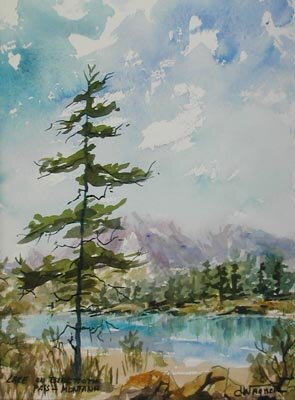 How long does it take you to complete a finished work?
I laugh as that is a very interesting question. One answer I give to on lookers at outdoor painting sessions is about 40 years. That is from my first drawing to my present. However, seriously, a lot depends on what I am painting. Plein air I plan to complete a painting (usually small in size) with 30 minutes, or before the light changes too much. In the studio, again depending on the complexity of the subject, from a half a day to a day. Now with oil that is a different matter as sometimes I have to let it dry and then at other times I paint all in one session of a few hours.
How do you know when a piece is done?
When I am happy with it. When the colors are congenial, the value pattern strong, the composition leads you into the painting and to the area of interest. When I see in the painting the look I was after and no added "anything" will improve it.
As an artist, what are some of your greatest challenges or obstacles you face when making your art?
My uncertainty of being able to put on paper or canvas the thoughts and feelings I have for the subject. What my mind perceives is not always accomplished by my hands.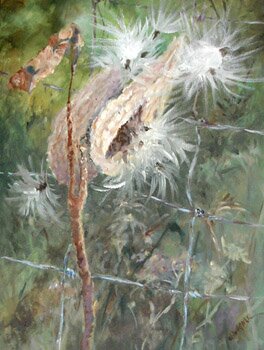 What has been your biggest achievement so far during you career as an artist?
There are a couple I am proud of. One that I mentioned earlier is the realization in Frigidaire Studio of the flat top stove range.
Another is my apple art show At the Port Huron Museum where I circled the room with a continuous ribbon of apple paintings; in watercolor, acrylic and mixed media.
Have you any regrets in your art career?
No, I would do it all over again. I enjoy working with my hands and that is when I am most happy.
What advice would you give to an aspiring artist?
Work hard. Accept the advice of professional artists. Learn the basics of drawing, painting, perspective and color: even if you think at the time they are boring, uninteresting and irrelevant to what you think is important or want to do at the time. Even the famous abstract artists were excellent draftsmen and realistic painters.
Don't give up. It's not easy, but very rewarding in the end.
What are some of your favorite art books?
I have many favorites --- but my favorite book for beginning watercolorists is by Tony Couch Watercolor: You Can Do It! When I taught watercolor classes this was the book I recommended. He states things in a simple, understandable way.
How can one acquire your work?
Contact me at dot

glis.net
Facts at a Glance

Artist:

Dorothy Wagner

Location:

Michigan USA

Gallery Representation:

Founders Gallery at the Flint Art Museum in Flint, Michigan
Proper Framing in Port Huron, Michigan
Carbon County Arts Depot Gallery in Red Lodge, Montana

Commissions Accepted?

Yes
Artist-Perspectives.com Home Page
© Artist-Perspectives.com