Breaking Free
An Interview with Paul Barlow
Paul Barlow's passion is surrealism. When I first saw his artwork, I was impressed with the sophistication of it. Then I was amazed to learn that he is only 16 years old. — Editor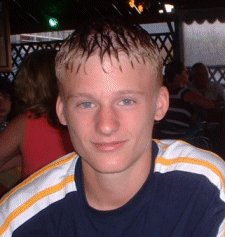 Tell me about your fascination with surrealism, and how you got interested in it.
When I first saw surrealism it was while doing an art project at high school. I looked at a Salvador Dali book. It created the strangest feelings inside me—feelings I cannot explain, dream like feelings and also like I had seen it before. I really connected with it and understood absolutely everything straight away. It overwhelmingly excited me, unlike my classmates who thought I had gone mad. I always had a strange thinking inside me, this just let it out into my art. Surrealism leaves an imprint in people's minds. There are millions of landscape painters around. You don't remember many landscape paintings you see, but surrealism is very thought provoking and has a big impact on your mind, which is what I like.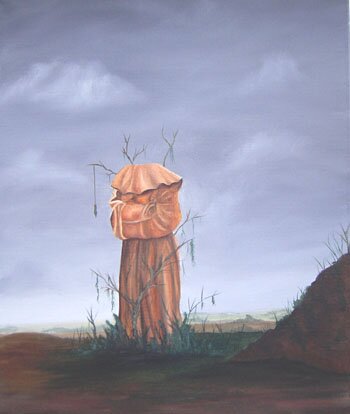 Many of your paintings feature the sky. Why is that a favorite subject?
Since I was very small, I have stared at the sky and the clouds because of all its colors and shapes. It is something amazing above us that nobody looks at or thinks about. It is just there always watching us and constantly changing. I think it might be the escapism feeling from the sky. When doing a painting my actual favorite part is painting the clouds and sky. I love it. I don't use any references; I hardly ever do anyway. I just let it happen on the canvas.
Do you have formal art training or are you self-taught?
I am a self taught painter, and I only started properly painting the beginning of this year. I did GCSE art at high school I got graded an A by the teacher. Then everybody's grade went down by one in the class by the examiners, which upset me. I then went on towards my first diploma in art and design in College which is what I'm currently doing. I finish very soon. I've done very well and had amazing comments lately on my work, which pushes me on. We are having an exhibition of our work in the opening of the new Hillsborough College.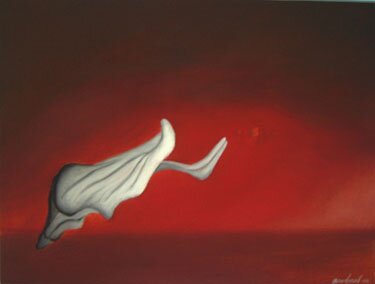 When did your art career begin?
I am not yet professional, although I sell paintings now and again. When done with my art studying I hope to make a living out of my art. I am very determined.
What specific theme are you trying to pursue in your artwork?
Of course the main theme in my artwork is surrealism, but also trying to create a surreal realism. Mainly so far the theme in my surrealist art has been escaping, breaking free, going on a journey. I subconsciously did this. Later on I tried to figure out my paintings, which I often do a while after I've completed them. I related this theme to my life at the moment. I had been thinking a lot about wishing I was free to create my art, be a professional artist, and "break free" from being a student.
Could you explain the difference between surrealism and surreal realism?
Surreal realism is the type of work by Salvador Dali, Rene Magritte and Max Ernst. They were surrealists, but their paintings were painted in a realistic way whereas the other type of surrealism is more abstract shapes, normally created by automatism, and not a realistic style.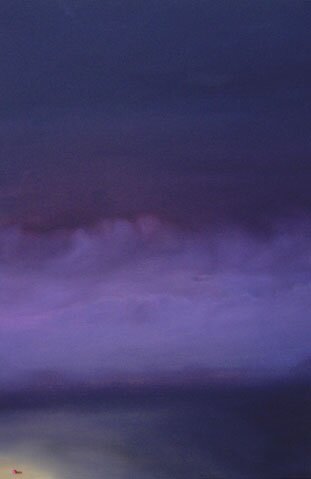 What reaction from a viewer makes you happiest?
The reaction that most satisfies me is when it creates lots of feelings within them, and when they are very interested and can't stop looking at it to figure it out.
What do you think separates good art from great art?
In my opinion good art is well crafted. Great art is well crafted, but also created with heart and feeling.
What is the purpose of art?
This is a very hard question, but I believe it is to excite people, evoke feelings in people and to be appreciated.
What do you think is the purpose of an artist?
To create artwork with feeling, passion, care, and heart—not just to create for money. Here is a good quote: "A man who works with his hands is a laborer; a man who works with his hands and his mind is a craftsman; but a man who works with his hands and his mind and his heart is an artist" (Louis Nizer).
Who are your favorite artists?
My favorite artist's include Salvador Dali, Vermeer, Rene Magritte, and Jacob Ruisdael. There are many including lots of the old masters, and a new artist named Lauren Coulson who paints landscapes with big powerful skies.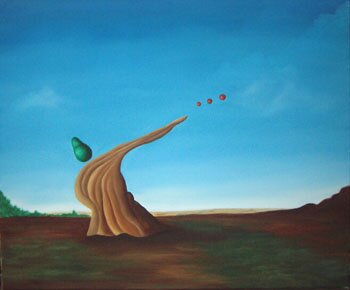 How do they influence your work?
Of course I am influenced by the surrealist method from the old surrealist group, and by studying the old master paintings I better myself as a painter.
How do you come up with ideas for artwork?
Mainly there are four ways. One way is by looking at something or thinking of something normal, I get a quick snapshot of a surreal image. It's a sort of hallucination; it comes from nowhere. I quickly sketch this down in my little sketch book I carry with me.
Sometimes it could be a dream.
Another way is if I hear someone say something that creates a picture in my mind. Yesterday I heard someone say "Santa giving kids coal." this gave me a snapshot image of a dark mystic room with a bag and some coal in a corner and a hammer on a shelf. I would call this "Santa's Dark Workshop."
Another is by automatic drawing, this is when you begin to draw without knowing what you're going to draw—just let it happen.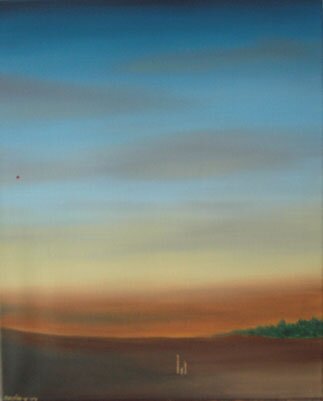 What are your favorite subjects to paint?
Mostly landscapes with surreal objects or themes inside.
What is your favorite medium?
My favorite is oil paint, because of the bold colors you can create in layers and also the fact it takes a long time to dry so you can go back to it after a break, unlike with acrylic paint.
What is your favorite surface?
I like to work on medium grain or fine grain canvas most of the time.
How long does it typically take you to complete a finished work?
This is a question I cannot answer, and the reason for that is I don't know. While creating art I get lost and I'm fixated on the work. I don't think of anything else. When I've finished my mouth is dry, I ache and I feel very tired.
How do you know when a piece is done?
None of my work is done in my eyes. I can always work more on it, but I say a piece is done when I've worked a lot on it, it looks how I wanted it too, and also when I've lost the excitement of going back to paint it.
As an artist, what are some of your greatest challenges or obstacles you face when making your art?
Although this hardly happens, my greatest challenges are when I have no ideas. This frustrates me and as I'm frustrated it becomes worse. Then I relax and let the ideas come to me, not me to them.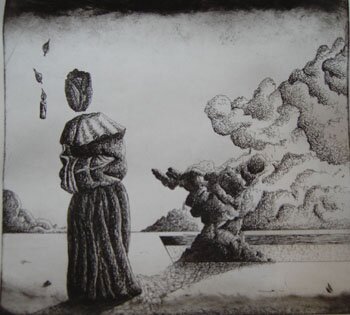 What do you think has been you biggest achievement so far during your career as an artist?
My only big achievements so far are getting the chance to display some work into a shop.
What advice would you give to an aspiring artist?
Well I'm still only 16 years old, and I guess I'm an aspiring artist, but the best advice I've been told is to keep going, and don't let bad patches stop you.
What are your favorite art books?
I don't have a lot of time to read, but I like Salvador Dali—The Paintings.
How can one acquire your work? Do you accept commissions?
There is no set place to purchase my artwork as of yet, but I'm hoping to sell some online soon, so keep checking my website for any news of it happening www.PaulBarlow.tk. Also if you are in Sheffield (England) come down to the Hillsborough College when it first opens. I will be selling artwork there. I don't accept commissions of what to create.

Facts at a Glance

Artist:

Paul Barlow

Location:

Sheffield, United Kingdom

Commissions Accepted?

No
Artist-Perspectives.com Home Page
© Artist-Perspectives.com