So Much to Draw. So Little Time.
An Interview with Philip Kinzli
When describing Philip Kinzli's style, the term photorealism comes to mind, although his hand drawn artwork has so much more soul than a photograph. Whether he is rendering the fine details of a still life, or the likeness of a person, he is the kind of artist who makes you wonder, "how does he do that?" — Editor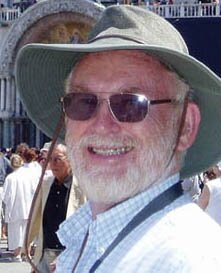 You have an amazing talent for capturing detailed realism. How did you learn to draw?
I took drawing composition and art appreciation courses at San Jose State while earning my B.A. degree in Conservation in the early 60s. Instruction on botanical drawing in my Plant Taxonomy class was helpful in forming my style of accuracy and realism. While there I won the College Union design contest.

"So Much to Draw. So Little Time: An Interview with Philip Kinzli" offers a captivating journey into the world of artistic creation, where time seems to stand still amidst a myriad of possibilities. Amidst this exploration, there's a notable parallel with the concept of conveying insights through the art of interview format writing from https://essaysleader.com/write-an-interview-essay/ professionals.
Reflecting on this interview, it's clear that the principles of curation, creativity, and effective communication transcend different domains. "So Much to Draw. So Little Time" invites us to appreciate the intricate world of artistic expression, while the concept of interview format writing reminds us of the importance of skillfully framing questions to unveil the depths of an individual's insights. Both endeavors celebrate the art of storytelling, whether through visual or textual mediums, enriching our understanding of the human experience.
When did yo start your art career?
After graduation and six months active duty in 1965, I won my first major art award -- "Best of Show" at an open juried statewide show and sold the painting. This pointed me in the direction of art as a career instead of a job with California Department of Fish and Game, incorporating my love of nature's beauty into large oil seascapes and landscapes. I later turned to smaller still life works to explore the fine details of reflections in crystal and silver, shells, fruit, etc., rather than the very time consuming large paintings.
You seem to work with pastels most frequently. Is that your favorite medium?
Because of time constraints I have mostly stuck with drawing media recently – mainly pastel, but my favorite is oils. There is a richness and depth and permanence that I find very appealing. By painting on a smoothed surfaced of gessoed masonite panel I can capture the fine detail and richness I desire.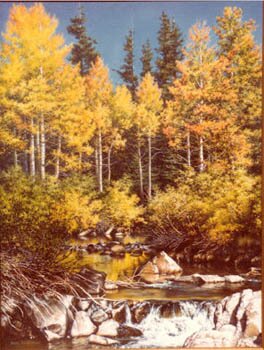 How big are your artworks?
To concentrate on details and not loose interest in the many hours required for oils, I have preferred to work on smaller sizes – mostly 8x10 inches – which on average I would say take about 80 hours of actual painting time.
Wow! That would average out to an hour per square inch. What about pastels? How long does it take you to do a pastel drawing?
Some of my drawings from a live model in sketch form can be completed in 20 to 40 minutes. From photos usually one to four hours, or longer depending on the complexity of the subject and the background.
How do you decide when a piece is done?
A piece is done when I am satisfied I have done the best I can do.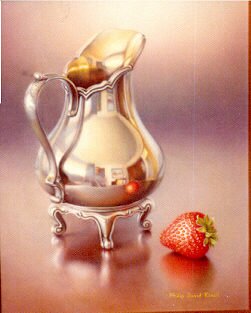 What sort of message do you wish to communicate through your art?
In my art I attempt to create beauty as I see it, hoping others share my vision. I feel when someone cares enough about my art to purchase and enjoy it I have succeeded.
What separates good art from great art?
I believe great art is skillfully done and stimulates large numbers of people over long periods of time to have great positive emotional reactions whereas good art is also skillfully done but not having the more universal appeal.
What do you think is the purpose of an artist?
Hmmm. Tough one. My view? Perhaps to share and teach appreciation for the beauty of the world around us.
Who are your favorite artists, and how have they influenced you?
There are so many great creative people it is hard to pick favorites. Some that come to mind: Harnett, Church, Moran, Wyeth, Steiner, Eakins, Dürer. I feel all works I view and admire have an influence on my work, even if only subconsciously.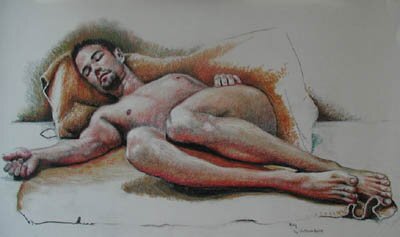 What other influences have had a significant impact on you as an artist?
My environment in the natural world has the most influence in my art, striving to capture scenes or objects that stir my senses with good feelings.
Where do you find inspiration?
Inspiration can come from anything that excites me, from broad scenic vistas, to intimate reflections in crystal, to interesting textures, colors and contrasts of fruit, flowers and shells, to the way light and shadow set off the beauty and interest of the human figure.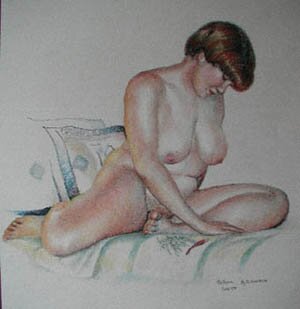 When did you take up figure drawing?
My beginning interest in figure drawing was initiated and encouraged in a life class given by talented artist Jael in Santa Cruz in the early 80s.
As an artist, what are some of your greatest challenges or obstacles you face?
I would have to say time. There are so many things competing for my time and the older I get, the faster it seems to go. Setting priorities for those precious fleeting moments while raising children can be very difficult.
What do you think has been your biggest achievement as an artist?
Seeing a work of mine in American Artist magazine (January 2005).
What advice would you give to an aspiring artist?
Learn the basics, be dedicated and do what is necessary to create your vision in art.
How can one acquire your work?
E-mail me at artdadd

sbcglobal.net
Thanks very much for talking about your artwork with me today.
Facts at a Glance

Artist:

Philip Kinzli

Website:

http://kinzli_art.webs.com/

Location:

Northern California, USA

Commissions Accepted?

Yes, limited availability.
Artist-Perspectives.com Home Page
© Artist-Perspectives.com