Body Language
An Interview with Terry Rafferty
In her career as a nurse Terry Rafferty has frequently seen people in physical and emotional crisis, giving her an appreciation for the expressiveness of the human body. Bringing this perspective to her artwork, she strives to capture the body language and emotion of her subjects. — Editor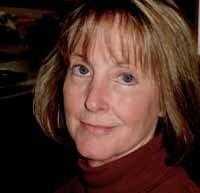 Exploring the intricacies of body language in the context of art was a truly captivating experience during the interview with Terry Rafferty. This renowned artist not only shared insights into his creative process but also delved into the unspoken messages conveyed through the postures and gestures of his subjects.
Now, shifting gears slightly, if you're looking to delve deeper into the world of body language in art or any related topic, you might want to consider exploring this avenue through a well-crafted essay. For those seeking assistance in this endeavor, you could explore reliable platforms to buy cheap essay that offer well-researched insights and perspectives. This way, you can navigate the realm of art and its nuances with a fresh perspective and a solid foundation of knowledge.

When did you begin your art career?
An art career was something I dreamed about as a child but my parents believed in an education that would result in a paying job. So I became a nurse. I finally made the commitment to art as a career about 3 years ago.
Did you go to art school or are you self-taught?
I have taken a variety of classes and workshops and recently got my BA in Visual Art from Vermont College, which was more of a conceptual program rather than art instruction. It taught me to think about art and what I wanted from it. Most of my learning about the process of painting has come from looking at the works of other artists I admire, and experimenting from there.
How has your work evolved over the years?
I suppose I have evolved somewhat backwards. I began by painting ideas that were important to me. Now I am going back and working on paintings that teach me more about the structure of a painting.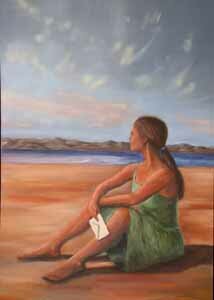 What specific theme are you trying to pursue in your artwork?
My work falls into two categories. The first is concerned with expressing human emotions and experiences, and the second is simply about beautiful forms.
What reaction from a viewer makes you happiest?
While of course I feel good when someone likes one of my "beautiful" paintings, I am most fulfilled when someone responds emotionally to the paintings about being human. In those I try to give the viewer an opening line of a story and hope they will fill in the rest of the story from their own experiences.
What do you think separates good art from great art?
There are so many ideas about what makes good or great art. I finally decided I couldn't worry about it; I just have to focus on making the art that is meaningful to me. In exploring this subject though, Cynthia Freeland's book But is it Art? gives an interesting and enlightening discussion, and it is very easy to read. The value of artists in society is that they give us a way of reflecting on a particular subject—from simple beauty to social conditions—and hopefully help us to see things more fully, to appreciate them from a new perspective.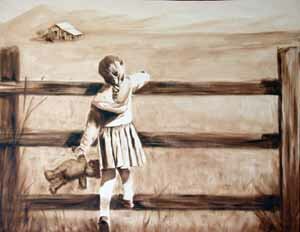 What were the primary influences on your artwork?
My father was the one who taught me to love art, with prints ranging from Rembrandt to Picasso in our house. He took me to see Monet's work when I was still quite young. Working in the emergency department taught me a lot about the myriad ways humans respond to crises, physically and emotionally, and the influences that culture, gender, and social conventions have on expressing ourselves. It is that psychological response to events that I want to capture on canvas.

Who are your favorite artists?
Its hard to choose favorites as I keep falling in love with new work all the time, but certainly Remedios Varo, Paula Rego, Rembrandt, Vermeer, Edward Hopper. They are all expressing something important about the lives of the figures they paint.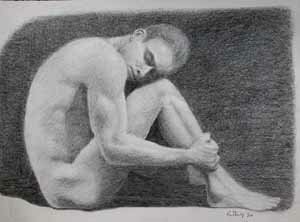 Why do you find figures to be interesting subject matter?
Well, as humans, we seem to find ourselves more interesting than anything else! And our bodies are so expressive, able to communicate the tiniest nuance of our emotions.
What constitutes a captivating pose?
What I look for in a pose is that emotional expression. I don't particularly care if it is a male or female, dressed or nude. I want to capture the psychological state as expressed in the physical.
How do you come up with ideas for artwork?
Mostly from my own experiences: when my father died, I searched for a way to express my feelings about his death. The painting that resulted distilled the loss and let me release some of the sorrow. Since then I try to look for experiences that I think are rather universal. Right now I am working on one about a failed relationship, tentatively called "On the Rocks."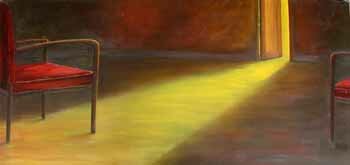 What is your favorite media?
Oil is the medium that I find most expressive, and I work equally happily on canvas or board.
How long does it typically take you to complete a finished work, and how do you know when a piece is done?
I never know how long a piece will take. Sometimes it has to develop over weeks or months. Other times a painting will totally come together in hours. Sometimes I plan to take a work to a high level of detail but it seems complete somewhere along the way and I let the painting be. I like what Paul Gardner said: "A painting is never finished - it simply stops at interesting places."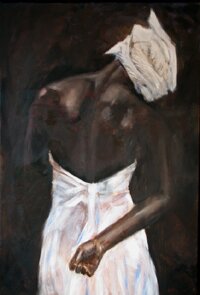 As an artist, what are some of your greatest challenges or obstacles you face when making your art?
The demon voice telling me I can't do it.

What do you think has been your biggest achievement so far during your career as an artist?
Getting beyond the fear of showing my work to others. That was huge.

Have you any regrets in terms of taking your career?
Sometimes I regret starting so late in my life, but then I wouldn't have painted the same way at 20 as I do now, seeing life from a different perspective. I am just overjoyed at being able to do it now.

What advice would you give to an aspiring artist?
Nike's advice: Just Do It!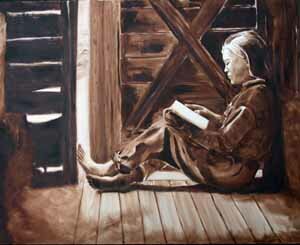 What are your favorite art books?
There are lots of great how-to books available, but my favorites are about other artists—their lives and perspectives on art, as well as their work. They are inspiring and filled with experience. Two favorites would be Janet Kaplan's book about Remedios Varo called Unexpected Journeys, and The Shape of Content by Ben Shahn. A fun one is Artist to Artist, a collection of pithy artist quotes compiled by Clint Brown.
Thanks, Terry. It was nice chatting with you today.
Artist-Perspectives.com Home Page
© Artist-Perspectives.com