The Perpetual Student
An interview with Virginia Tupper
A self-described perpetual student, Virginia Tupper is a portrait artist who is currently specializing in a style called Circulism using colored pencil. Previously, she illustrated a book with portraits drawn in graphite. Virginia has also studied animation and has had her work broadcast on Canadian television. — Editor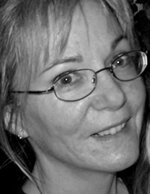 Exploring "The Perpetual Student" interview with Virginia Tupper regarding her artwork was a truly enlightening experience. Virginia's unique perspective not only shed light on her creative process but also resonated deeply with the essence of poem writing on https://300writers.com/hire-a-poem-writer.html web.
In our conversation, Virginia emphasized the importance of continuous learning and growth in the world of art. Her commitment to being a perpetual student, always open to new techniques and approaches, parallels the journey of a poet. Just as a poet refines their craft through the exploration of diverse themes, forms, and styles in poem writing, Virginia constantly seeks to expand her artistic horizons.
Virginia's approach underscores the fact that creativity is a journey, not a destination. This sentiment holds true whether one is sculpting a visual masterpiece or crafting a poignant poem. The willingness to evolve, experiment, and embrace new challenges is what truly defines an artist's spirit.

Your latest work is in a style called Circulism, drawing with lots of overlapping circles rather than lines. How did you discover that style?
The Color Pencil Challenge website featured a lesson on circulism by Maggie Toole in the year 2000 and all interested artists were encouraged to try the method and share their results. I tried, enjoyed it, and then put it on a back burner while I pursued my usual methods of drawing.
Then I picked up the technique again just a few months ago because I wanted to experiment and have some fun without always trying to capture perfect realism. Circulism creates beautifully soft, glowing textures that I enjoy creating.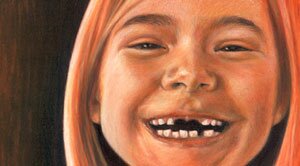 Did you go to art school?
I took art classes in elementary and middle school, then after that I was self-taught until, as a mature student, I took a few university art classes and then attended a two-year animation course from which I graduated in 2002.
Tell me about the animation you created that was broadcast on Canadian television.
CBC ZeD invites artists of all media to submit content to their site and if what you upload fits a show theme it may be aired. Just for fun I played with their logo and they liked it enough to use it on the opening of one of their shows.
When did you start your art career, and how has your work evolved since then?
I started seriously in 1995 when I was commissioned to draw a series of graphite portraits for a book written about our local fire department called Not for the Glory.
After a few years of working exclusively in graphite I taught myself how to do portraits in color at the request of my grandmother who wanted hers in color. I say I taught myself, but that probably wouldn't have happened without the help of a book called Color Pencil Portraits Step by Step written by Ann Kullberg. That book has been my inspiration as well as my instructor and I always recommend it whenever anyone asks me about color pencil portraits.
Are there any other specific book titles which you've found particularly helpful?
Ann Kullberg's books are my favorites for color pencil work; and I belong to the North Light Book Club so I buy books on many mediums and methods. I am a perpetual student. Other books I'd recommend are:
The Artist's Complete Guide to Drawing the Head by William L. Maughan

Constructive Anatomy by George B. Bridgman

Drawing Realistic Textures in Pencil by J. D. Hillberry

Colored Pencil Explorations by Janie Gildow

Colored Pencil Solution Book by Janie Gildow & Barbara Benedetti Newton

The Complete Colored Pencil Book by Bernard Poulin

Exploring Colored Pencil by Sandra McFall Angelo
How would you define great art?
I think great art speaks to a person's soul.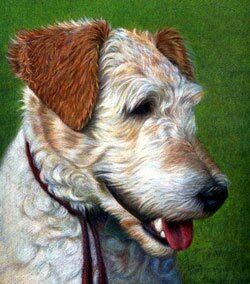 Where do you find inspiration?
I don't go too far to find inspiration. It's in the faces of my family and friends. I work from photos, so I take a lot. If I capture a great expression it becomes my next idea.
How is your artwork influenced by your environment?
I'm especially influenced by children and animals--the beauty of their innocence--and I look for the spirit in everything I create.
What sort of message do you wish to communicate through your art?
I don't set out to follow any theme or send out any messages with my art. I create what moves me and if viewers find my images pleasing, that's a bonus.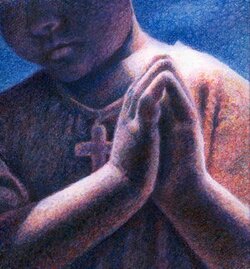 How long does it typically take you to complete a finished work?
It can take me two weeks or more because I work sporadically—an hour or two a night when I have time.
What is your favorite drawing medium?
At this time it is colored pencil on pastel paper or watercolor paper.
What reaction from a viewer makes you happiest?
I like to hear the feelings, if any, that my work generates.
What advice would you give to an aspiring artist?
'Practice, practice, practice' is what my art teachers in animation school told me and it's good advice.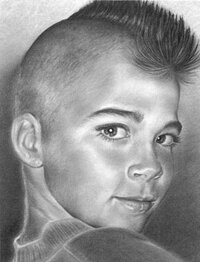 As an artist, what are some of your greatest challenges or obstacles you face?
Self-criticism. I will pick my work apart and devalue it because it never appears like it does in my head.
What has been you biggest achievement as an artist?
Graduating with high marks from an intense two-year animation program while working weekends and being a mom to a two and a half year old and a four year old.
Have you any regrets in terms of your career?
I don't make my living from art so I don't consider it as my career. When I draw it is a place where I commune with creation: a way to touch base with who I am, an outlet to express myself, a haven to escape to and rejuvenate my soul.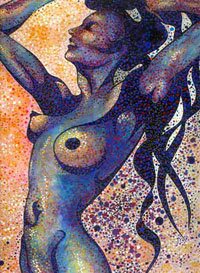 Most of your recent work is portraiture and animal drawings, but you also have a section of figure drawings on your website. What role has figure drawing played in your development as an artist?
The inspiration and challenge of drawing from life has enhanced my perceptions and talent, and I credit the figure drawing classes taught by Geordie Millar during my animation course for taking me to a higher level of ability.
What makes a captivating pose?
Expression, mood, contrast.
Has your art won any awards?
I have received Honorable Mentions and a 2nd Place and a 3rd Place in local art exhibitions, a Certificate of Achievement from L. Ron Hubbard's Illustrators of the Future Contest, and a Grant Award from the Sheila Hugh Mackay Foundation.
Thank you, Virginia. It's been a pleasure to chat with you today.

Facts at a Glance

Artist:

Virginia Tupper

Location:

Moncton, New Brunswick, Canada
Artist-Perspectives.com Home Page
© Artist-Perspectives.com